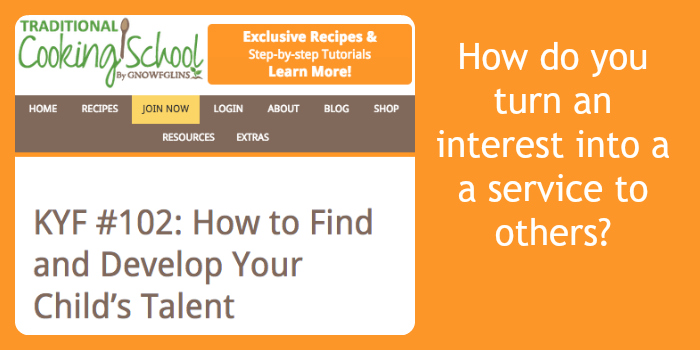 Would you like to eavesdrop on an intelligent conversation on how to create a unique talent opportunity for your young person? Listen here.
Do you want to know what the secret is to making sure that it is not some cute hobby that will do next-to-nothing for your son or daughters's future prospects? Listen here.
I explain how to develop talent in young people during the entire 60-minute podcast by Wardee Harmon. She is the owner and chief cook at the online school www.TraditionalCooking.com . What caught my attention was the fact that she herself was using her life's interests exactly along the lines of what my 10ktotalent method suggests: by finding a way to make a core skill bring value to others and not as a stand alone skill by itself.
Listen to the point in the interview she makes about how it was not until she was in her late twenties that she finally started a learning journey of her own that made sense to the vision for her own life. How much better it would have been if she had had a method that could have started her in her teens. Enter "yours truly", to explain a strategy of how that can be accomplished much sooner rather than much later.
Wardee asks me how I would approach talent in a young person's life if the interest was already there for traditional cooking or homesteading. Her podcast audience has a shared interest for real food and traditional cooking so it would be natural for the children of her listeners to also have grown up with a passion for growing food, fermenting food, or cooking food in a traditional way. Does such an early interest mean something to son or daughter's future opportunities? or is it neither here nor there? This was a great how-to-create-talent interview because she wanted me to explain how do you turn such a type of interest and passion into eventually an opportunity that can support a family. And that's what I take the time to clearly explain.
Your child's core skill, such the ability to grow a Victory garden, can be used as the first skill around which to wrap many others until it gets transformed into a market valuable talent.
Here are some of the links mentioned in Wardee Harmon's Podcast:
Connect with the Best in Your Generation
Example of 10,000 Hours in Practice
Does Your Child Have a Tag Line for his Talent?
Same Experience Repeated Over and Over is Not Talent
Redding Drone by Jonathan Harris Jr. (17 years old)
Scarabcoder Learns to Program by Nicholas Harris (13 years old)
Blades of Belaq by Caleb Harris (15 years old)
KYF #009: Nourishing Skin Care with Renee from hardlotion.com