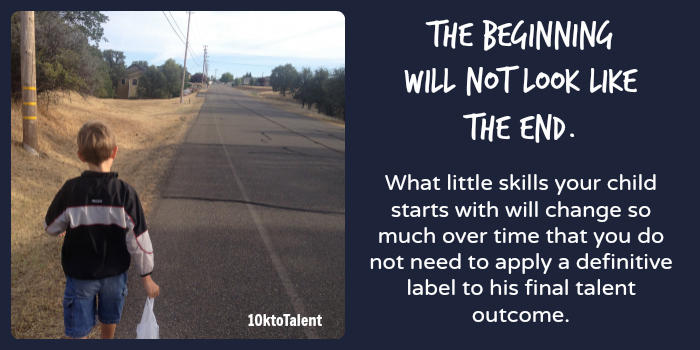 The question is: "What does your child want to be when he grows up?"
You are burning to be able to say the words "plumber" or "math teacher" or "nurse" because that is something that is easy to describe and you don't have to explain it to your adult peers. Do you remember when your own parents chided you about not worrying so much about your peers thought? Well, that same principle applies at this stage in life. You must resist the temptation to have your son's future boxed in terms of today's fleeting job descriptions.
Here is why you do not want to be able to easily describe your son's future end-destination: if you are able to fully understand and describe now how that talent will be used a decade out from today, then it means that the specific field of talent will often be over-crowded by the time your child reaches adulthood. Sure, he might make a living based on that job description, but it will probably not change his life in a meaningful way.
Does that mean you should not use not a popular skill with which to start your child's 10,000 hour talent journey? No, you are not forbidden to do so. You can in fact use a popular or common skill to get started. As long you understand that it is the beginning point from which to embark on a long journey of 10,000 hours. You can expect that the original skill will change so much during that long time that it will have only a small connection to its beginning. During that journey, your young person, with your guidance, will uncover and develop a combination of other skills to add to his mix, until little by little
 he is able to deliver massive recognizable value to others.
Maybe the popular guitar, for example, gets him excited enough to be able to ride a wave of enthusiasm where he can please his teenage friends at their birthday parties. The guitar gives him the tool for making friends and teaches him to be comfortable with larger gatherings. The guitar playing is a well recognized traditional skill that everyone understands, but that is not likely to be his end destination, at least not if you understand the 10ktoTalent method. Most parents confuse a current skill focus as the final destination and will usually panic or accept it as fate that their son is destined to be a guitar player. In their mind "fate" has destined their son to strictly pursue a musical path. They believe that if he deviates from that "calling" then it means he will not be able to be live an emotionally contented life. They also imply that he is meant to struggle financially in that "calling" since there are already so many good guitar players in every town in America. They already know that however good he technically is at guitar playing, it will add little to the already fantastic repertoire available. What most parents don't realize is that although his guitar playing is not fate, it can still have a role by being used as pathway to new opportunities. The savvy parent recognizes the guitar playing as simply the beginning of a 10,000 hour adventure.
To continue the example: The guitar playing could then get him motivated enough to start tackling the digital recording and editing of his songs to share with others via YouTube or maybe it gets him wanting to project himself in a more poised way in front of small groups. He could start learning how to use an audio editing tool or he could join the local toastmaster's group for young people. The guitar playing may still play a role in either of those two choices or it may have already completely fulfilled its role and will never be seen again. Either way, on this journey he learns to embrace the fact that there is always a juncture every few hundred hours, at which point he can go to the left or to the right. But in whichever direction he does go, whether down the digital recording road or whether down the road of public speaking skills, he is ALWAYS building on the talent he has already acquired and moving closer to finding more and more relevance to the needs of the marketplace.
So stand up straight and look forward to the years ahead. There is an excellent adventure afoot!