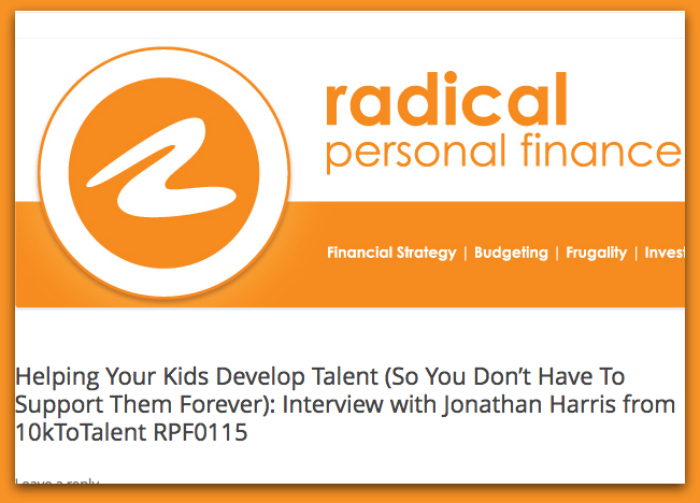 Listen to a podcast interview by Joshua Sheats of Radical Personal Finance on my explanation of how you can go about discovering and developing talent in your child while your son or daughter is still young.
If you are the kind of person that likes to learn by listening in on a focused conversation between two people, then you are going to enjoy this type of podcast.
Joshua is a financial expert and likes to interview people with unusual insights on how to implement life-hacks that can dramatically change the quality of  your lifestyle and that of  your finance book. In this case, he was intrigued about how parents can put their children onto an amazing talent development path that will change their lives, without a big up-front investment in money. That's why "yours truly" came on as a guest for his "radical personal finance" show.
During his interview with me he made the interesting point that if you take the talent approach seriously, then you are passing on the skills for your child to be able to be successful on his own merits. If you are a smart, intelligent kind of parent, you can create the conditions in your child's environment that will reap enormous rewards in adulthood. The opposite approach would be for an otherwise smart parent to make it big with his own wealth creating abilities, but leave the responsibility of his child's education to others. Such a scenario will likely have little impact on the behavior of the children according to Joshua, as the patterns of the adult descendants will already have been firmly entrenched by the time they get the inheritance windfall.
What matters most is the time spent now to mold your son or daughter while still in your household. Good news: That time spent does not necessarily depend on your finances as a parent. This means you can act on talent building now without having to wait for a future success date of your own . Chew on that insight for a while on the implications of what it means to pass on success to your children!
That was Joshua's commentary during the interview, so if you want to hear more stuff like that, subscribe to his podcasts so you can hear his other interviews.