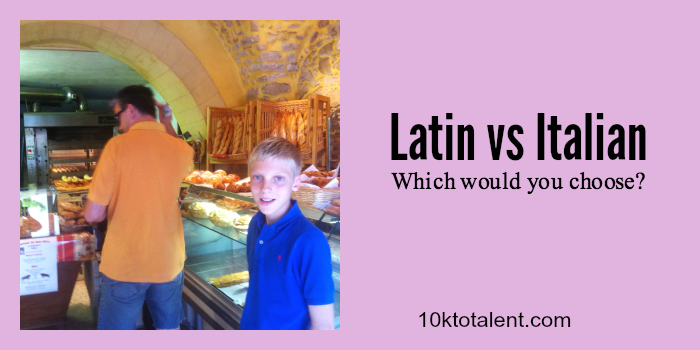 Should you choose to teach Latin or Italian in your homeschool?
This question came up in the context of a conversation with an American friend who was asking my opinion about which foreign language would be the best to start teaching their young children. I can tell you right now, I would do neither of those languages with my children. Now that I caught your attention, I will also tell you that yes, I think those are wonderful languages to be able to know, but you need a strategy in order to decide if those specific languages are worth learning, among the hundreds you could learn.
You need to understand what your family goals are and ideally, what your talent goals are for your children. (By the way, talent goals for your children SHOULD leverage your family goals for maximum speed and maximum motivation). So my answer back to this friend was "what do you plan on doing with that language once you've acquired conversational level?" – I was met with bewildered silence.
Then I started asking if there was any particular foreign language they could think of that would actually open the doors of communication for their child or their family to do something they wish they could do? This is when it came out that Italian could really fit into their family's love of Italian Opera. They also told me they had aspirations for their young son to be engaged more throughly at some point in Italian opera, which was a family passion of theirs. The husband woke up from his quiet listening and added enthusiastically that he wished they could have more connection with an Italian side of his heritage on his grandmother's side, maybe even go back and visit his roots. This is the power of understanding your family goals and understanding the purpose of the skills you might learn, such as a foreign language. Once you understand your goals, you understand then which language to choose. It was not until I asked about their family's NON-ACADEMIC and NON-LEGALLY required goals, that the waters of confusion parted and land was now in view. In this instance, I closed the case with this recommendation: choose to learn Italian.
In my household, I chose French and Dutch, because I grew up in France and my wife has family in the Netherlands.