Dear friends of talent,
I'm happy to announce that you now have access to a full e-course on how to find and develop a real, long-term talent for your child. This is a new course and has never been available before.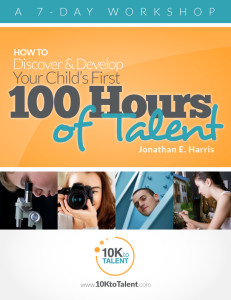 Not only can you get the workshop guide (which some of you already have), you can also listen to my wife and I talk you through each exercise of the workshop. You can also follow along as I guide another homeschool mom in discovering her 15 year old daughter's talent statement for her first 100 hours of development.
Are you tired of watching young adults and young friends being tossed aimlessly on the shores of college life without a plan, or thrown into a world of low-paid entry jobs? If so, then finding a custom talent for your son or daughter that brings amazing value to others IS the answer to that problem.
Are you afraid that a real talent, not a cute hobby, would actually tear your family unity apart? I've got your answer.
Do you think that you don't have enough assets or resources to come up with something that is meaningful enough for others to care about? I've got your answer.
Are you getting ready to default to mainstream planning because you can't figure out what could possibly motivate your child enough to make it to a level excellence dramatic enough to change his future? Again, I've got your answer to that problem. too. The answer is found in the e-course "How to Discover and Develop Your Child's First 100 Hours of Talent."
Before deciding which course you want, would you like to first listen to one of the videos for the talent discovery e-course?  Here is the link to "Day 2: Identifying Personal Interests." There, I talk about the role and limitations of personal interests and then I show you a video of an actual coaching session on that section of the workshop.
Sincerely,
Jonathan Harris
Talent Coach