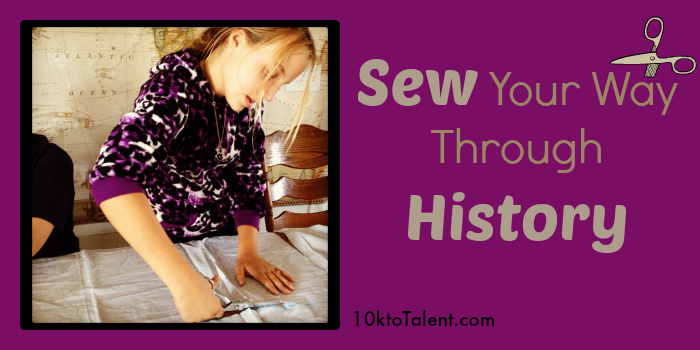 How does your daughter make significant headway in a talent field that at first seems to have little to do with her standard history and other school curriculum? Take a page from the playbook of Heather in her article "Teaching History and Literature with Fashion." Her daughter is into some serious fashion and sewing skill building and is combining her normal history and literature studies with what is going on in the world and role of fashion during the same time periods.
"…study history with an emphasis on something your student enjoys. My eighth grade daughter loves to sew, and she has grown quite talented at it over the years. This year we combined literature and history with her love of making fashions…Allow your student to research different fashions over time, among classes of people, and around the world all during the same portion of the timeline…"
When you combine traditional learning time with a deliberate overlap into time spent building talent (a.k.a. dovetailing), you can change the entire course of your child's adult life. If Heather keeps double-dipping her child's time for serious talent (see her article), her daughter will easily be able to open doors with her skills by the time she is 18.

Consider the scenario where your daughter does sewing and learns to study fashion for four serious hours a day: at the end of one week, she can easily accumulate over 20 hours of skill building. That could easily be two daily hours during standard school time (such as history), with two daily hours after school time.

Compare the above scenario to a girl who takes one regular sewing class on a Saturday morning. The latter, which is really just a hobby, gives you only 2 hours of intense focus. That's a ten-fold difference!

Rinse and repeat that focus and double-dip method for the next ten years. The mind boggles at the gap in expertise between the one who takes control of her learning in her youth and the one who waits to be told what to do after High School.
The irony is that even though this daughter is double-dipping her subjects (history+talent), I bet she will never forget her history. She is the one that will be interesting to talk to at a party. The child who is not double-dipping will struggle a couple years later to remember just the history details, even though it was theoretically less work. That's the power of pegging relevance to what a child is learning from the textbooks.
Don't have a talent around which your daughter can get motivated? I can help you find one that will get you and the whole family excited for her.  Walk through my e-course "How To Discover and Develop Your Child's First 100 Hours" and send me your questions by email.