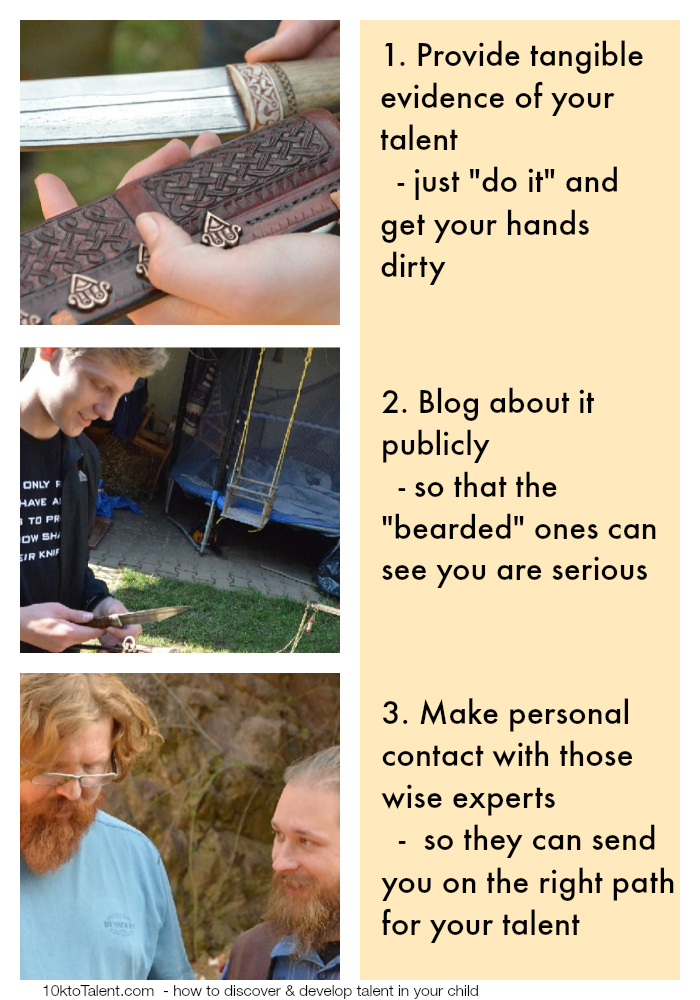 In the past few weeks, my fourteen year old son Caleb was able to reap still more rewards as a result of having originally taken to documenting his talent journey publicly. By doing this, I mean that he has blogged about his talent and he has been an active participant in an online forum dedicated to supporting a community of bladesmiths. In this community, professionals and serious amateurs encourage each other and share news of the the latest development in the craft and trade.
Caleb's blogging started a couple years ago when he started to write about his interest in bladesmithing and about the progress in his learning. That consistency allowed him to convince the gatekeeper of the professional bladesmith forum that he should be accepted as a member. Since it is a serious forum dedicated to a serious craft, they understandably do not want people to join who are not going to contribute to the spirit and community of bladesmithers. That is where Caleb's public blog acted as a calling card to open the doors. His blog was absolutely necessary to have as a young person, to demonstrate his commitment to wanting to learn. He was a novice in a field populated by adult veterans of the craft and without the asset of his blog, it was doubtful he would have been allowed in.
Once inside the forum, Caleb started learning as fast as he could the etiquette of engagement within that professional world. He also learned to ask the right kind of questions in order to make progress in his quest to becoming a better bladesmith. He dutifully read up on previously explained material when told to do so. Because of Caleb's friendly, but respectful interaction (a couple of social mistakes along the way, from which he quickly recovered), he was able to find out many time-saving and money-saving ideas he could implement in his novice workshop without breaking his small budget. A couple of adults even generously shipped him some tools and resources to encourage him along, while others wrote him personal messages in order to encourage him in his pursuit. As a result, he started making significant progress on his knives. His interaction on this forum has been nothing short of amazing. Had he tried to acquire this level of interaction through the traditional means of networking, he would have broke his parents' bank in trying to attend expensive summer workshops, flying to distant states, and going to specialized schools. That is even assuming that I would have allowed him to do so at such a young age, which of course I would not have.
Continuing the story of how Caleb recently reaped still more benefits from his online interaction with his talent, he was able to take advantage of an opportunity to accompany his grandparents on a European trip as a means to further consolidate his participation in a small, but vibrant world-wide community of bladesmithers. He boldly contacted four different bladesmiths from the forum that he knew lived in the Czech Republic and the Netherlands. I braced him for the fact that of the four requests that he might only get one true invitation. But clearly I was wrong. I had underestimated how strong of a bond there was in this online community. Not one, but all four professionals generously invited him to visit them in their private workshops on their home properties!
Caleb is still in Europe as of this writing, but he has confirmed to me that, with the help of his grandfather as chaperone, he has indeed been able to visit all four bladesmiths and was warmly welcomed. When he comes back next week, I and the rest of the family, can't wait to hear a full account of his in-real-life encounters with some of the heroes of his talent world. Some heroes were tough with their advice, others more gentle, but all were generous to him in his quest to become better at his talent focus. This is the power of deciding to interact in the community of one's chosen talent.
If any of you would like to know how to jump-start your own child on his blog, please let me know and I will be glad to share with you what works and doesn't work. Contact me through the feedback button on this website and I will personally reply back to you. If you are already convinced that blogging is the way-to-go for your son or daughter, I would like you to sign up for the "Blog to Your Talent" e-course. This e-course is designed to walk your young person through a simple 42 lesson plan for starting a new blog related to his or her interest or talent-focus.