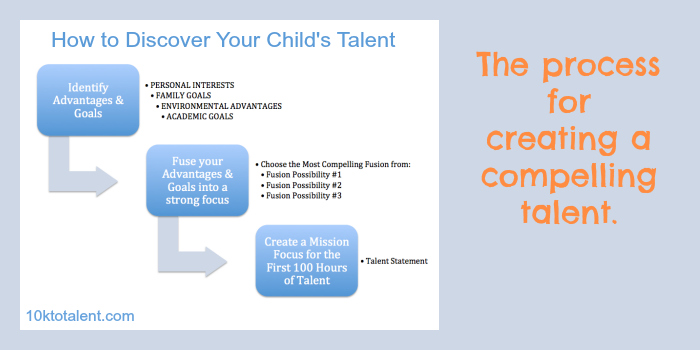 How do you find a focus around which your young person can start building a valuable talent? It seems like such a distant thing to hope for in the midst of textbooks, dozens of equally good curriculums, and too few hours left in the day to pursue anything else. It seems like it is just meant to happen to a lucky few to fall into a talent. But I am here to show you how that "luck" can be applied to each and every child in your household.
Here's why every one of your children can develop a real talent while still under your roof:
You can start them young because you create a talent from the current uniqueness in your child's life. You are not waiting for some mysterious future thing out there, that has no connection to your present life. Your environment of people and places, your family's particular quirks and strengths, your child's personal interests can all be merged together in a unique way that has passion and focus . You then give that focus a purpose by finding a way to bring value to others through that talent. This creates a feedback loop of encouragement, motivation, and productivity. This is a systematic process for discovering a viable talent that leaves plenty of room for passion.
Wouldn't you like a taste of that kind of purpose in teenage son's life? or how about your daughter finding great confidence in her unique productivity that she could carry with her all the way into her married life?
That is what the 10ktotalent process for discovering and developing talent can do for the young person in your home.
I give you here the basic process for discovering that kind of talent focus:
Step 1: Identify and list these items in your young person's life into these four categories:
Personal Interests, Family Goals, Environmental Advantages, Academic Goals
Step 2: Merge together several items, one from each of the previous categories to create a poetically compelling fusion of strengths in your child's life. On paper, try your hand at several of these fusions to see how interesting your options can be be. What emerges as the best is usually far superior than what you thought was possible before you started this discovery process.
Step 3: Take your favorite, most compelling fusion, and turn it into a believable and d0-able action statement for your child's first 100 hours of talent focus. That is the beginning of your child's talent. As your young person acts on it, his beginning talent will grow in complexity and branch out into previously unthought of opportunities.
Do you want help to make sure your son or daughter is on to the best talent possible? Then you may want to get my coaching help in this e-course "How to Discover and Develop Your Child's First 100 Hours of Talent."