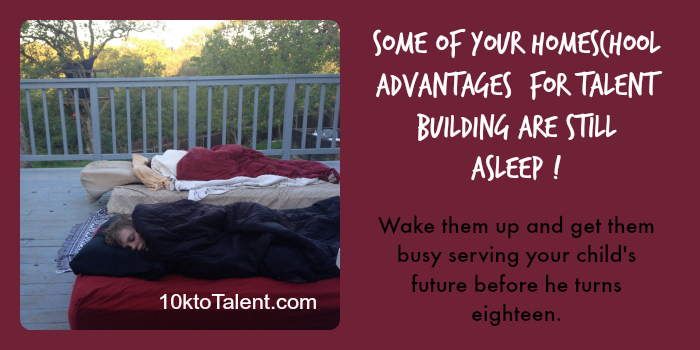 Homeschoolers have some advantages over traditional students that can be used to make talent growth much easier. Do you know what those are?
All children can develop talent of course, whether homeschooled or not. So before I tell you what the homeschool advantages are, let me first restate the principles for reaching amazing levels of performance that will apply to all young people in their quest for focus and excellence.
they start young (a few started late, but then they might not have had other normal family obligations such as in the case of Julia Child, who was childless – pardon the family name pun)
they practice daily (no exceptions here)
they actively decompose their talent into smaller skills (they were smart about what their talent was, not just hard-workers)
they merge skills and borrowed ideas from different fields (they wanted to break new-ground, not just preserve the past)
A great read for understanding the above principles can be found in these books that analyze how amazing talent was built in the lives of the top performers in the world.
Now, I am going to tell you what homeschool parents can easily do over other parents that will make the talent acquisition process significantly easier.
Homeschool parents can:
Use their environment and assets (so you don't wait for a pie-in-the-sky opportunity that may never come)
Enlist their family goals and desires (so you don't have dad rolling his eyes on another Saturday talent excursion that doesn't make sense to him)
Have their child act out the talent in a way that gives value to others (so you don't paint your child into a corner of being very, very, very good at something totally irrelevant to the marketplace)
Make the school curriculum feed their child's talent (so your child has enough experience to actually have a chance at achieving lift-off by the time he is eighteen)
The more you can dovetail those assets into your child's life, the more talent progress and focus can be achieved in a shorter period of time.