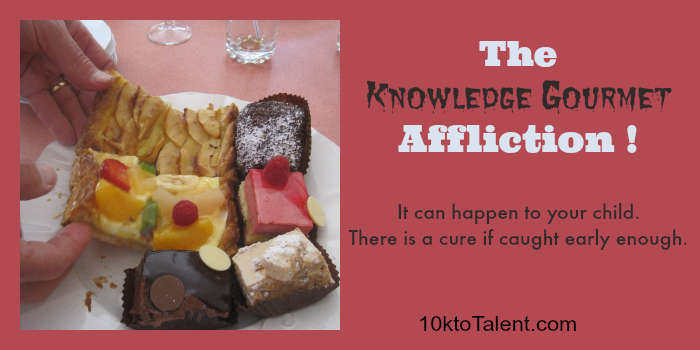 Parents, don't allow your child to fall victim to the Knowledge Gourmet mentality. Read this metaphor and see how long it takes you to figure out exactly what I'm talking about.
Paul has an amazing life. In his mind, it's pretty grueling, but you and I wouldn't mind a day or two of in the life of Paul. After all, he's a Knowledge Gourmet. Each day Paul spends at least three hours in three different restaurants, sampling, nibbling, engorging on the restaurant's "special." He's there to taste and enjoy everything from garlic fries to coq-au-vin, from Dutch apple pie to Zabajone gelato. Every menu is memorized, every taste is logged into a book, and part of his work involves being able to recite the biographies of every chef he meets. Along with the tastings comes the Venn diagram: he must compare and contrast the Asian cuisine with the American, noting even the differences between the wall art and types of napkins used.  Clean napkins are there at his disposal, and they miraculously appear with every swipe of food from his lips. I neglected to mention that this is not a weekend retreat for Paul.
This work involves daily restaurant visits and weekly reports that will take him four years to work through. Before you ask how Paul pays for this experience, let's first talk about his goal, which is far more important. Paul's plans are to become the next big celebrity chef. Good thing he has such a lofty goal, because reaching it will pay the restaurant tabs, right? His parents sure hope so, since they co-signed the tabs to prove their dedication to their son's future. The government, too, wants to invest in Paul, so they happily send him the paperwork to promise him both grant money, and an amazing loan opportunity with low interest rates he won't have to pay back on until he's finished with the program.
I will stop this metaphor at this point because this is so obviously preposterous and foolish that someone would so easily confuse information consumption for the ability to produce. Some occasional fine dining here and there, yes, but he should have been starting at the stove and learning the business management of a restaurant in order to later have a chance at becoming a celebrity chef.  Now all he will have is the cruel memory of four extravagant years, followed by years of paying back debt and probably working on anything but the culinary world (unless it involves a cash register and a "would you like fries with that?").
Unfortunately, without careful planning, parents approach their child's college experience the same way: apply, get accepted and then acquire a taste for the most expensive educational courses possible. This teaches the child how to consume information, but without producing anything genuine of his own.  Some of the most abused college education by knowledge gourmets are those who pursue music degrees, history degrees, fine art degrees and English literature degrees.  It is consume, consume, consume, but as the formal education comes to an end, all their involvement in that world of knowledge also comes to a complete stop. Why? That's because there is no training or ability to produce anything of value for others and the money that has thus far fueled this most delicious consumption has come to an end.
The moral of this story: if you wait for your child to turn 18 to suddenly look for a talent direction, you might have already raised up a Knowledge Gourmet who is headed for years of post-college heartache. Instead, start early in his teen years looking for ways to gently build up a long-term talent and get him used to producing something of value for others in that domain. Then when he's ready for college, he and you will know which educational investments will make the most sense to his future and his family's future. And yes, somewhere in there, there's still room to enjoy a little bit of Zabajone gelato after all.
Your child doesn't have a serious talent yet? Drop your haphazard two-year search for a unique talent of his own down to only seven days by following my talent discovery method. Order and download my e-course "How to Discover and Develop Your Child's First 100 Hours of Talent."