Thank-you for purchasing the "Blog to Your Talent" e-guide!
Sign-up below to receive the videos to your "Blog to Your Talent" e-guide. If  your student has his or her own email address that you would like to have the video assignments sent to, then enter their email below.
You will receive emails at scheduled intervals (a few times a week) with links to short videos encouraging you to blog your way to the top of your talent field. You will be watching personal videos of me and a few members of my family explaining or expanding on some point in each of the lessons of "Blog to Your Talent."  As long as you are still signed-up for this video newsletter (you can easily unsubscribe), you will have easy access to replay the videos as many times as you like.
Enter your preferred email address in the sign-up box above and you will be taken to a new page where you will be able to enter the access code that you will find in your e-guide. If you have any difficulties, please feel free to contact through the feedback button on this website.
Happy Talent Journey!
Jonathan Harris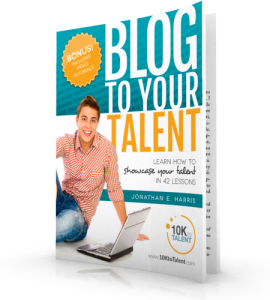 This is a sample video of what you can expect to receive by entering your email in the subscription box above: