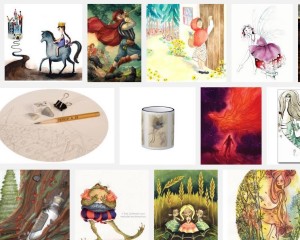 For my daughter who is heading down more of an art-related path, I inspired myself by typing the following keywords in the Google search engine for images:
watercolor children's illustrations fairy tale -anime
What you will see are hundreds of thumbnails of illustrations that have a watercolor art style and in the process of telling a story. Though she is not at that level of ability, those images are currently very reflective of how she communicates through art. Add and remove keywords until the search results start reflecting part of an ideal productive potential for your child; in my case I removed "anime" by typing a minus sign next to it.  Note that my daughter will still need to add modern skills to her core art skill to be of market value to others.