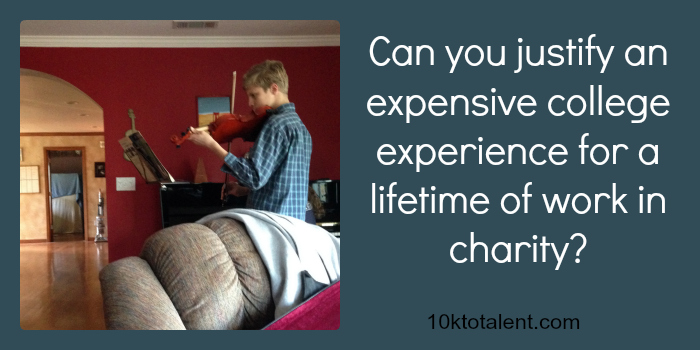 Is my skepticism of college education nullified if it is going to knowingly be used for serving the poor and the weak? And if it is fully understand that the student will not be able to earn a living from it? In other words, it has no value in the marketplace, but the charity value still makes it worthwhile for the student to invest the time and money.
For example: you and your student hope that in her adult life she will be able to help street children in Sao Paulo, Brazil by using her skills as a master violinist.  Clearly, the street children have nothing of real value to offer in exchange that could possibly pay you back for your student's time and expense. To add to that, the children may often not even understand the value you bring to them that starts the change in their lives until years later.
I will answer that I still maintain skepticism of expensive college degrees, even for charity work. Here's why.
Putting aside other considerations for the moment, I would still recommend that if a long-term talent is being developed solely to be given away freely to others, then some of the same principles apply for talent applied to charity as to talent that is being developed to bring market value to others. Specifically, the principle still applies that there should be a continuous effort to discover where and how the talent will be applied to bring added-value. Normally, the marketplace recipient would tell you if your music is adding to their quality of life: if they never buy your violin concert tickets or you can't get others to play your compositions, then clearly you are not meeting their wants and desires.
But in the case of charitable giving, you still have to have a goal you want to accomplish with your talent. If your goal is to change the lives of street children, will your violin playing change their lives? There is one way to find out for sure BEFORE you commit to four or six years of advanced formal training. You test the value by attempting to apply an aspect of your talent to a charitable group already working with orphans.
You may discover, as you attempt to play your violin, that what really brings in the street children is…warm food…or rap music…or loud speakers playing MP3…or staying up through the night to help with detox from drug addiction. It may even be your violin music that brings them in, after all (pardon my extreme doubt here). But there's the key. You will know for certain as you attempt to gradually work it out. That is why I encourage students to gradually discover their long term talent. If it is not violin playing that really helps street children, but instead raucous loud story telling with a rap bent to it, then all your years of expensive violin training are really doing nothing to change the lives of those you hoped to impact. If it's loud story telling, are you ready to have your student stop college and instead invest in practicing that skill on the street and in clubs for four years? If you are not ready to have your child do that, you may be trying to justify a fantasy status education. It will turn out to be an education that will neither help your child to earn a living nor help the needy to climb out of their difficult situations.
What about getting a medical degree to help the poor? – this has not only charity value, but true market value.
What about bringing your business degree and experience to help refugees start businesses of their own? – this has not only charity value, but true market value.
What about an engineering degree to help dig wells and build charity hospitals? – again, this has not only charity value, but true market value.
Clearly, some expensive college degrees have straightforward charity value while also having market value. Others are much more dubious. Of course exceptions can be found. But make sure you choose wisely your college degree even if it is for a lifetime of work in charity.
If you could use an approach that gently guides your child over time to developing a talent that is very valuable and useful to other people, I recommend you fill out the worksheets available in my talent guide.